Advancing Patient Care in Research Facility Design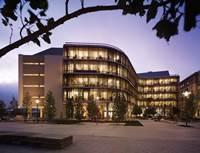 The Sandler Neurosciences Center on the University of California San Francisco (UCSF)'s Mission Bay Medical and Research Campus redefines modern medical research facility design by co-housing a clinical research unit and research laboratories. The UCSF Memory and Aging Center, a clinic where patients receive state-of-the-art care and take part in clinical trials, is on the ground floor of the Sandler Neurosciences Center. The top four floors house UCSF's Institute for Neurodegenerative Diseases, the Department of Neurology, and the Keck Foundation Center for Integrative Neuroscience. Co-housing clinic space and research laboratories puts researchers in close proximity to patients and affords patients access to an unprecedented amount of resources. The overarching intent of the building's design is to create a collaborative and collegiate environment. The design of a five-story atrium lined with communal space visually connects all floors, exposes them to natural light, and allows room for chance meetings to occur. Having the clinic located on the first floor next to the atrium creates an easily accessible space for patients. The multidisciplinary design of the Sandler Neurosciences Center allows it to be a place where researchers, world-renowned experts, and patients gather to work in tangent to solve the mysteries of neurological diseases.
This article originally appeared in The Academy Journal, published by the AIA Academy of Architecture for Healthcare (16th edition).
Periodical:
The Academy Journal of the AIA Academy of Architecture for Health (AAH)
Published & professionally reviewed by:
The American Institute of Architects