AIA 2030 Commitment Case Studies: Studying the Experience of Participant Firms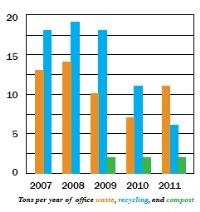 Delving into business factors, behavioral science, and organizational change, this report explores how firms can successfully adopt the AIA 2030 Commitment to steer their building portfolios toward lower carbon solutions. The AIA 2030 Commitment is a growing national initiative that provides a consistent, national framework with simple metrics and a standardized reporting format to help firms evaluate the impact design decisions have on an individual project's energy performance and to evaluate the performance of designs across the entire firm portfolio. Using the lens of organizational change, the researcher developed firm case studies that identified patterns that enhance successful implementation, obstacles and challenges encountered by firms through the stages of implementation, and illuminated the unique ways in which firms have addressed and overcome them. Perspectives ranging from the large, multi-office firms to the small 3-person practice are provided to highlight the unique challenges and opportunities each face implementing to the AIA 2030 Commitment.
This is a report from the AIA/AIAS COTE Research Fellowship 2012.
Published & professionally reviewed by:
The American Institute of Architects
More Like This
Add comment
Log in
to post comments