AIA R/UDAT: Reuse of Center City Railroad Lands; San Francisco, CA (1985)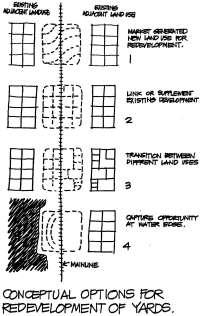 Reuse of Center City Railroad Lands: An Opportunity for Energy Efficient Urban Design
This is the report of the Regional/Urban Design Assistance Team visit to San Francisco, California on October 18-20, 1985.
This R/UDAT on railroad lands and urban energy issues examines the reuse of railroad lands in the cores of cities. It is a joint effort of the American Institute of Architects and the U. S. Department of Energy to investigate the opportunities for comprehensive urban design and efficient energy use in the context of the redevelopment of under-utilized railroad land resources. Three case studies of projects at various stages of completion - located in Pittsburgh, Denver, and San Francisco - demonstrate what has been done to date and what the future opportunities and planning processes might be from the lessons learned.
Created in 1967, the AIA's R/UDAT program pioneered the modern charrette process by combining multi-disciplinary teams in dynamic, multi-day grassroots processes to produce community visions, action plans and recommendations.
Published & professionally reviewed by:
The American Institute of Architects
More Like This
Add comment
Log in
to post comments