Bands (2015 R+D Awards Citation)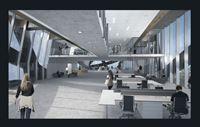 Eric Owen Moss Architects eschews the Cartesian coordinate system to design an exoskeleton that speaks to the building's use. The tangle of steel arcs that wraps the 16-story office tower (W)rapper in Los Angeles is fully structural. Eleven of the 14 bands serve as the 230-foot-tall building's primary load-bearing system and provide lateral stiffness. The exoskeleton also enables a column-free interior and variable floor-to-ceiling heights and contributes to the unique views from each floor.
Project: Bands
Design Firm: Eric Owen Moss Architects
(2015 R+D Awards recipient)
R+D Awards
ARCHITECT magazine's annual R+D Awards program honors the research and technologies that have advanced the profession at every scale—from design strategies and building products to fabrication methods, installations, software, and materials.
Published & professionally reviewed by: