Bloom (2012 R+D Awards Honorable Mention)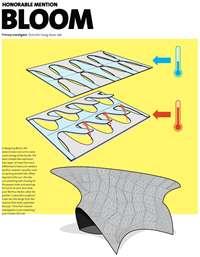 In designing Bloom, the research team set out to create a zero-energy active façade. The team utilized thermobimetal (two layers of metal that react differently to heat) and created a pavilion covered in 414 tiles, each comprising bimetal tabs. When exposed to the sun, the tabs curl, providing both shading for the people inside and openings for hot air to vent.
Project: Bloom
Primary Investigator: Doris Kim Sung (DOSU Studio Architecture; University of Southern California)
(2012 R+D Awards recipient)
R+D Awards
ARCHITECT magazine's annual R+D Awards program honors the research and technologies that have advanced the profession at every scale—from design strategies and building products to fabrication methods, installations, software, and materials.
Published & professionally reviewed by:
More Like This
Add comment
Log in
to post comments