Building Air Tightness: Code Compliance & Air Sealing Overview (TechNote)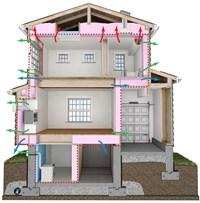 Building air tightness describes the degree of air leakage into and out of the building's thermal enclosure which separates conditioned space from the outdoors. Air leakage is the uncontrolled flow through the thermal enclosure due to pressure imbalances caused by wind, stack effect, and mechanical equipment.
This TechNote covers the definition of air tightness, the benefits as well as concerns of tight houses, and critical areas and strategy for air sealing.
Published & professionally reviewed by:
National Association of Home Builders (NAHB)