Building Air Tightness: Code Compliance & Air Sealing Overview (TechNote)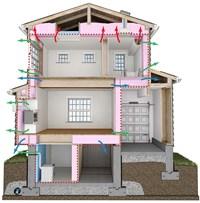 Building air tightness describes the degree of air leakage into and out of the building's thermal enclosure which separates conditioned space from the outdoors. Air leakage is the uncontrolled flow through the thermal enclosure due to pressure imbalances caused by wind, stack effect, and mechanical equipment.
This TechNote covers the definition of air tightness, the benefits as well as concerns of tight houses, and critical areas and strategy for air sealing.
TechNotes: Best Practices for Home Builders
In recent years, building codes for energy efficiency and related standards have been amended to require greater amounts of insulation in exterior wall and roof assemblies, including continuous insulation on exterior walls, higher levels of building air tightness, and mechanical ventilation.
NAHB's Construction Technology Research Subcommittee worked with Home Innovation Research Lab to develop these TechNotes to help builders navigate these new code requirements and implement best practices to avoid building performance issues related to interior humidity levels, condensation in wall and roof assemblies, and interior air quality.
Published & professionally reviewed by:
National Association of Home Builders (NAHB)