C-Lith (2014 R+D Awards Citation)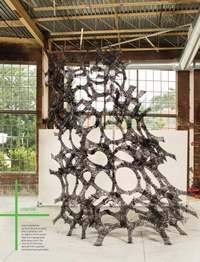 Area (design firm and fabricator) explores the potential of carbon fiber, a lightweight, high-strength material. The researchers are developing carbon fiber architectural units that can be joined to form structural framing, scaffolding, and lightweight construction. Standing 14 feet tall and 8 feet wide at the base, their C-Lith prototype is a semi-cylindrical, hollow structure composed of 143 interlocking carbon fiber modules that vary in shape and size.
Project: C-Lith
Design Firm and Fabricator: Area (Ann Arbor, Michigan)
(2014 R+D Awards recipient)
R+D Awards
ARCHITECT magazine's annual R+D Awards program honors the research and technologies that have advanced the profession at every scale—from design strategies and building products to fabrication methods, installations, software, and materials.
Published & professionally reviewed by: