CAUSE / R/UDAT: Niagara Falls (1984)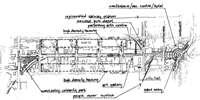 In 1982, the Chairman of the Niagara Falls Downtown Board of Management sent a letter to the CAUSE Committee requesting guidance on solutions to problems affecting the central business district of Niagara Falls, Ontario. On April 12, 1984, the CAUSE team heard from approximately 30 people representing the municipality, business interests, and the citizenry.
At the same time as discussions were underway about Niagara Falls, Ontario, the City Council and Mayor of Niagara Falls, New York were requesting help from the AIA Regional Urban Design Assistance Team (R/UDAT). The two cities are on a common border. The two urban design groups felt a need to form a Joint Team which would review unique common problems and suggest solutions.
This is the report of the CAUSE Team, the R/UDAT Team, and the Joint International Team's visit to Niagara Falls from April 11-16, 1984. Each team, CAUSE and R/UDAT, has by necessity and definition dealt with the problems and opportunities of its own, individual City. Because this is the first international design assistance team project, this is a combined final report.
Community Assist for an Urban Study Effect (CAUSE) is a program developed by the Ontario Association of Architects.
Created in 1967, the AIA's R/UDAT program pioneered the modern charrette process by combining multi-disciplinary teams in dynamic, multi-day grassroots processes to produce community visions, action plans and recommendations.
Published & professionally reviewed by:
The American Institute of Architects
Ontario Association of Architects
More Like This
Add comment
Log in
to post comments