Classification + Reference Standards for UHPC in Architectural Applications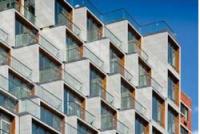 Please note: The attached file below contains a paper from the BEST5 conference that is linked to a conference presentation in pdf format. Open with Adobe Acrobat for best results.
Ultra-High Performance Concrete (UHPC) offers new capabilities for structural and aesthetic concrete architectural applications in building design. UHPC is over four times stronger than traditional pre-cast concrete, and it performs exceptionally well in demanding conditions. Its strength derives from its carefully calibrated ratio of engineered ingredients and a mixing sequence that packs molecules closely together to create very tight bonds. The high packing density yields excellent flexural and compressive strength, while virtually eliminating the capillary pores that cause freeze-thaw degradation in other cement-based products. These distinct material properties provide opportunities for greater spans, thinner profiles, and more complex geometries, with advantageous installation costs, while providing higher performance in extreme climates than other glass fiber reinforced concretes (GFRC), terracotta, or metal reinforced pre-cast concrete products. Specifying UHPC involves an understanding of code requirements, both existing and emerging, as well as comprehension of manufacturers' testing standards. In the present study, Architectural Ultra-high performance Concrete (A|UHPC®) basic material properties, classification, performance capabilities, and limitations are summarized and compared with other traditional building façade materials. Furthermore, an explanation of the relevant emerging codes, testing requirements, manufacturer accreditations and construction specifications are presented. Finally, a discussion of opportunities for continued development of practical A|UHPC® applications in the built environment is included.
Presented at:
Building Enclosure Science and Technology (BEST5) Conference
Published & professionally reviewed by:
BEST5 Technical Committee