Comparison of Metal and Non-Metal Retrofit Systems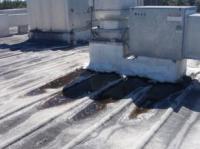 Please note: The attached file below contains a paper and a presentation in pdf format from the BEST5 conference. Open with Adobe Acrobat for best results.
Multiple options are available to a building owner when considering a new or reroof over a metal roofing system, including coatings, single-ply systems, and metal panels. Each option has its advantages and disadvantages. Due to observed problems with retrofit of metal roofing system projects, such as altered drainage, uplift resistance, and changes in fire classification, Metal Building Manufacturers Association (MBMA) initiated a project that summarized advantages and disadvantages of metal and non-metal roofing systems, with the goal of producing a factual, objective resource that can be used to educate others about retrofit systems. By educating building owners, specifiers, contractors, and building officials, problems in retrofit systems will hopefully be reduced. This presentation reviews the results of the project.
Presented at:
Building Enclosure Science and Technology (BEST5) Conference
Published & professionally reviewed by:
BEST5 Technical Committee
Add comment
Log in
to post comments