Construction Document Quality Crisis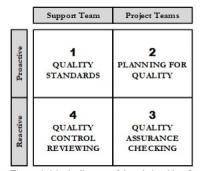 Building design is becoming more complex because of increasing regulatory requirements, technological developments, and a panoply of new products. At the same time, design firms are being pressured by clients, market pressures, and contractors to produce documents is less time than previously. The challenge of achieving and maintaining a high standard of quality in design and the contract documents for those designs affects aspirations, satisfaction, profitability, and even the very existence of design firms.
A/E firms must have an affirmative process for managing and producing quality construction documents that combines both proactive and reactive efforts. Such efforts will be more effective if there is a unified strategy for achieving consistent quality assurance and quality control. Many firms have partial approaches that provide a level of quality management and are implementing some 'lean' procedures, but lack a comprehensive approach. There is no single solution and each firm must develop a plan for quality suitable for its size, staff, and project types. This session will discuss key concepts in managing quality and outline a practical approach for developing such a QA/QC strategy.
A major factor that affects both efficiency and quality is management of design decisions to ensure compliance with the owner's project requirements. Procrastination of project decisions is sometimes a matter of decision avoidance, but lack of planning is probably a more common cause. Whatever the reason, ill-timed and out-of-sequence decisions by the owner, the design team, and the construction team are always costly and can adversely affect the project schedule and the work of other project participants.
Presented at:
Building Enclosure Science and Technology (BEST5) Conference
Published & professionally reviewed by:
BEST5 Technical Committee