Cool Roof Rating Council: Keeping Cool for 20 Years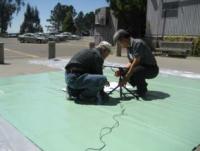 Please note: The attached file below contains a presentation in pdf format from the BEST5 conference. Open with Adobe Acrobat for best results.
The CRRC is an independent and non-biased organization that has established a system for providing Building Code Bodies, Energy Service Providers, Architects & Specifiers, Property Owners and Community Planners with accurate radiative property data on roof surfaces that may improve the energy efficiency of buildings while positively impacting our health and environment. In 2007, the CRRC became an accredited standards developer for the American National Standards Institute (ANSI). In November of 2010 the first edition of ANSI/CRRC S100 - Standard Test Methods for Determining Radiative Properties of Materials was approved. The current Standard (2016) was developed with input from the public and the CRRC Consensus Body, a balanced group representing diverse interests, ensuring that all aspects of the standard are considered. ANSI/CRRC S100 covers test specimen preparation and test methods for measuring the initial and aged radiative properties of roofing products. It is referenced by building codes and rating programs worldwide in order to measure the initial and aged solar reflectance and thermal emittance of roofing products.
Presented at:
Building Enclosure Science and Technology (BEST5) Conference
Published & professionally reviewed by:
BEST5 Technical Committee