Effect of Automated Dynamic Control of Interior Roller Shades on Daylighting and Energy Performance of South Facing Office Spaces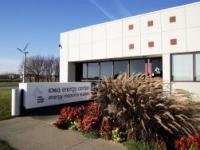 Please note: The attached file below contains a paper that is linked to a presentation in pdf format from the BEST5 conference. Open with Adobe Acrobat for best results.
Fenestration is responsible for 4.3 quads of energy use annually for heating and cooling of U.S. buildings, 2.6 quads of which are from commercial buildings. Thus, these buildings can benefit from fenestration systems that further focus on maximizing energy efficiency and improving daylight harvesting, while maintaining occupant thermal and visual comfort. In this research, two types of motorized roller shades are tested in a full-scale commercial building laboratory with the goal of improved balance between visual and thermal comfort, and energy efficiency.
Presented at:
Building Enclosure Science and Technology (BEST5) Conference
Published & professionally reviewed by:
BEST5 Technical Committee
Add comment
Log in
to post comments