Exo Structural Tower (2014 R+D Award)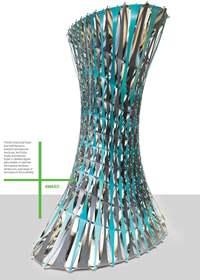 This prototype explores the smart potential of thermobimetals: laminated sheets of two metals with different coefficients of thermal expansion. When heated, one side expands faster than the other, causing the material to curl. Exo Structural Tower, harnesses this curling behavior to achieve fastener-free construction of a lightweight structural shell, or exoskeleton, that essentially self-assembles.
Project: Exo Structural Tower
Design Firm: DOSU Studio Architecture
(2014 R+D Awards recipient)
R+D Awards
ARCHITECT magazine's annual R+D Awards program honors the research and technologies that have advanced the profession at every scale—from design strategies and building products to fabrication methods, installations, software, and materials.
Published & professionally reviewed by:
More Like This
Add comment
Log in
to post comments