A Form Full of Function: The Aesthetic of Efficiency and the Planning of German Outpatient Treatment Centers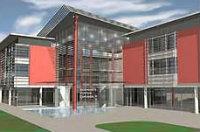 This article gives a brief introduction to the German healthcare system and describes in some detail the reforms in outpatient care that are forcing hospitals and independent physician practices to work together to develop outpatient facilities. In a short case study, we show how our design team went beyond the usual role of the healthcare architect and played a crucial role as project champions in the realization of the project. The article concludes by showing that the trends in German healthcare point to a general convergence in the delivery of healthcare in western industrialized nations and that healthcare architects need to place their services and view their roles in the larger project context.
The Academy Journal is published by the AIA Academy of Architecture for Health (AAH). The Journal is the official publication of the AAH and explores subjects of interest to AIA-AAH members and to others involved in the fields of healthcare architecture, planning, design and construction.
Periodical:
The Academy Journal of the Academy of Architecture for Health (AAH)
Published & professionally reviewed by:
The American Institute of Architects
More Like This
Add comment
Log in
to post comments