Free Agency: Strategic (Sub) Optimization in Trans-scalar Design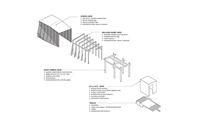 This inquiry explores the design of strategic (sub) optimizations; architectures that yield agency and energy efficiency to reinforce critical moments of feedback that optimize the system at an alternative, and often much larger, scale. The concept of 'free agency' in architecture refers to a practice allowed to operate outside a building's envelope; one that intends to prioritize the building as (sub) component within larger, trans-scalar, design interventions.
These concepts are explored through a set of (sub)optimized design inventions focused on ecologic and energetic feedback loops between forested management practices, wood processing, and wood construction in North-Central Minnesota.
keywords: Architectural Practice, Non-Isolated Thermodynamic Systems, Wood, Forest Management, Construction
Presented at:
ARCC 2017 Conference – Architecture of Complexity (Salt Lake City, UT)
Published & professionally reviewed by:
Architectural Research Centers Consortium (ARCC)
University of Utah
Add comment
Log in
to post comments