The Future of Architectural Design in the Post-Digital Era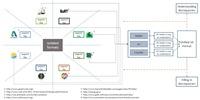 The authors describe a multi-disciplinary research agenda addressing where architecture, as a discipline and a practice, sits with respect to the age of ubiquitous data. Their focus is on the development of novel tools and frameworks to advance decision support for building design and construction in this context. Their work is motivated by emerging technologies in computational and data science that may revolutionize the way the built environment is conceived and produced, and, consequently, what that means for the future of design in a post-digital era.
This research covers the following topics and questions:
1. How can architecture benefit from the generation, curation, and use of structured data in practice?
2. Why is data access hard? How does data access (and reliability) influence the practice of architecture, the decisions that architects make, and the impact of the buildings that are created?
3. What powerful ways exist for harnessing and using reliable data? Can we utilize pattern-based approaches, like other disciplines?
4. How might advanced computational tools further support the architect in decision-making?
The authors are developing methods and multi-criteria decision support tools that use and leverage Web-based strategies to streamline the creation and discovery of building information and design data and enhance decision support via rules engines and machine learning.
Presented at:
2016 AIA / ACSA Intersections Symposium
Published & professionally reviewed by:
The American Institute of Architects
Association of Collegiate Schools of Architecture (ACSA)
Add comment
Log in
to post comments