Green Options in Roof Replacement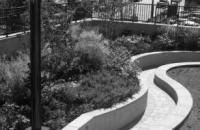 Why: With New York City's "80 by 50" initiative to reduce greenhouse gas emissions 80 percent by 2050, the stakes are high for the city to adopt progressively more stringent energy codes. Similarly, the Sustainable DC Plan professes the lofty goal of making the nation's capital "the greenest, healthiest, and most livable city in the nation." Other states and cities are following suit, as building owners, managers, and the design and construction industry race to keep up with the rapidly evolving codes, energy analysis requirements, and documentation standards.
What: Rather than an item to check off the to-do list, reroofing presents the opportunity to consider possibilities for increased efficiency, better indoor comfort, improved building user experience, and en¬hanced aesthetics.
How: Although some new technologies, particularly green roof systems, do present a greater up-front investment, they can return benefits of long-term durability and create a sustainable building amenity. This article outlines criteria to consider when considering the options of vegetative roofs, roof gardens and terraces, extensive landscaped roofs, and cool roofs, including high-albedo roof systems.
Periodical:
Hoffmann Architects Journal
Published & professionally reviewed by: