Grove (2016 R+D Awards Honorable Mention)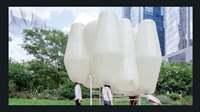 At the 2015 Design Biennial Boston, a cluster of curious, oblong vessels propped on a metal armature invited onlookers to pop their heads into an enclosure created by the intersecting volumes of their papier-mâché-like skins. The cluster of 8- to 10-foot-tall, 4-foot-diameter forms is titled Grove. GLD Architecture designed the installation to give people the experience of simultaneously inhabiting an intimate enclosure and a public space. Grove represents a significant advancement in architectural form-making. By combining composite-based structural analysis with inflatable vinyl forms, GLD has developed a workflow that embeds structural logic into design from the very start—and at a low cost.
Project: Grove
Design Firm and Fabricator: GLD Architecture
(2016 R+D Awards recipient)
R+D Awards
ARCHITECT magazine's annual R+D Awards program honors the research and technologies that have advanced the profession at every scale—from design strategies and building products to fabrication methods, installations, software, and materials.
Published & professionally reviewed by: