A High-Performance Rammed Earth Wall System for Cold Climates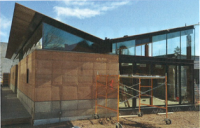 Why: Buildings are responsible for more than 40 percent of global energy used, and as much as one-third of global greenhouse gas emissions. As the cost of energy rises,
and rapid urbanization increases, it has become imperative to take advantage of low-cost passive strategies to reduce the energy demand of buildings, improve the resiliency of local communities and contribute to a positive energy future. The Casa Sanitas prototype, a "healthy home" designed by Pyatt Studio Architecture and Studio NYL/The SKINS Group­Structural Engineers and Facade Consultants, is part of a larger, ongoing rammed earth research project at the Program in Environmental Design at the University of Colorado Boulder, in collaboration with the School of Architecture at Xi'an University of Science & Technology in China.
What: Casa Sanitas is the first rammed earth house to be constructed in the city of Boulder, Colorado. Conceived as a sustainable alternative to the conventional wood-frame houses found across the Colorado Front Range, the Casa Sanitas prototype is designed to be a "positive energy home" (positive energy homes produce more energy over the course of a year than they use) and combines cost-effective, passive-design strategies that include the high thermal mass of stabilized rammed earth (SRE) walls, natural ventilation and passive solar orientation, with photovoltaic panels, solar thermal hot water and a small ground-source heat pump for radiant heating and cooling.
How: A key objective of the project is to develop a comprehensive rammed earth case study to help inform a set of "best practices" for rammed earth construction in the colder climates of Colorado, specifically around optimized thermal performance. Another objective is to establish an "applied research" laboratory to educate the community about the design and construction of sustainable, affordable and regionally appropriate housing. This article details measurement of the house's thermal performance, air infiltration rates, moisture resistance, and hygrothermal performance.
Periodical:
Journal of the National Institute of Building Sciences
Published & professionally reviewed by:
Building Enclosure Technology and Environment Council (BETEC)
Add comment
Log in
to post comments