High-rise Buildings with Combustible Exterior Insulation Systems - A Risk Assessment Tool for Building Authorities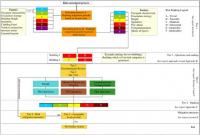 Please note: The attached file below contains a paper from the BEST5 conference that is linked to a conference presentation in pdf format. Open with Adobe Acrobat for best results.
Based on a number of recent fires in high-rise buildings clad with combustible wall insulation systems, global enforcement authorities are reassessing the level of risk in their jurisdictions. In response, NFPA has assessed the global regulatory context for these systems and developed a fire risk assessment methodology to assist the enforcement community in assessing the fire risk of their high-rise building inventory and prioritize mitigation and inspection. This paper reviews the regulatory context of high-rise buildings with combustible insulation and presents the methodology and its application to buildings around the world.
Presented at:
Building Enclosure Science and Technology (BEST5) Conference
Published & professionally reviewed by:
BEST5 Technical Committee