The Highway and the American City: Rethinking a Troubled Relationship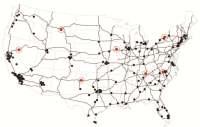 This project investigates the impacts that highways have had on the American city. The thesis of this research is that the intrusion of the highway into the urban fabric of many American cities significantly compromises inhabitants' abilities to live socially connected lives of low environmental impact. The project posits that this is due both to the disruption that the highway visits upon other, finer-grained infrastructures and the centrifugal force of the highway that disperses population, commerce, and services ever further from the center city. This project proposes to investigate this thesis in three ways:
1. by examining the cultural history of the relationship between the highway and the city in America,
2. by analyzing the environmental, social, and structural impacts of highways in selected American cities, and
3. by proposing alternate urban designs in which selected portions of urban highways are removed and replaced with infrastructures vital to the greening of the American city.
Published & professionally reviewed by:
The American Institute of Architects
Add comment
Log in
to post comments