Hydrology & Water Conservation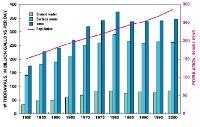 Over the next century, water resources will become a central issue to the quality of human life forcing designers to rethink how water is used and distributed. Can water functions in the built environment mimic natural water systems? It is important for urban designers and architects to re-determine how water is used, conserved, distributed, and replenished in regards to the built environment.
This is a report from the AIA/AIAS COTE Research Fellowship 2008.
Published & professionally reviewed by:
The American Institute of Architects
More Like This
Add comment
Log in
to post comments