Integrated Reveal Base (2012 R+D Awards Citation)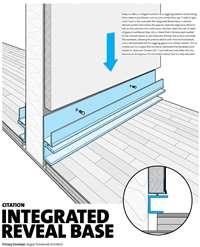 Integrated Reveal Base is a cleverly devised system that allows the popular revealed-edge base detail to rely on the precision of a continuous, stainless steel channel. A sheet of gypsum wallboard slips into a J-bead that is factory-spot-welded to the channel below. A coat of plaster finishes the surface and hides the hardware, allowing for precise details with minimal handiwork, and a reduced potential for sagging gypsum or uneven reveals.
Project: Integrated Reveal Base
Primary Developer: Bogue Trondowski Architects
(2012 R+D Awards recipient)
R+D Awards
ARCHITECT magazine's annual R+D Awards program honors the research and technologies that have advanced the profession at every scale—from design strategies and building products to fabrication methods, installations, software, and materials.
Published & professionally reviewed by:
More Like This
Add comment
Log in
to post comments