Lab to Field: From Components to Verified High Performing Buildings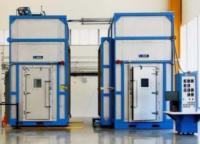 Please note: The attached file below contains a paper from the BEST5 conference that is linked to a conference presentation in pdf format. Open with Adobe Acrobat for best results.
The building science community has long recognized that reducing air leakage through the building envelope is a cost effective energy conservation strategy. But it took the 2010 requirement by the U.S. Army Corps of Engineers (USACE), and the subsequent incorporation of air leakage standards into the IECC to accelerate the industry discussion, partnerships and innovations. The use of fluid applied sealants and air barriers grew quickly as a result. This paper will compare three common Air & Water Barrier (AWB) systems with data presented from laboratory material evaluations, system performance tests, whole building air leakage measurements, and case studies of real-world field applications. System testing was conducted by Oak Ridge National Lab using their Heat, Air, and Moisture (HAM) penetration chamber to assess the impact of various environmental conditions on wall assemblies of the one of these methodologies. Whole building air leakage testing is also presented to reflect the delivered performance of air barrier options. Real world design and construction case studies are included for the various AWB systems in actual use. The featured projects compare how the different air barrier types are used by design professionals, and are incorporated in various building assembly designs. Further, the wall system case studies review challenges of field placement and transitions to adjacent materials in the context of scaling from laboratory performance to the field.
Presented at:
Building Enclosure Science and Technology (BEST5) Conference
Published & professionally reviewed by:
BEST5 Technical Committee
Add comment
Log in
to post comments