Life Cycle Assessment of Urban vs. Suburban Residential Mobility in Chicago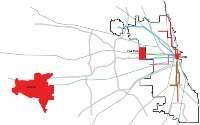 The research outlined in this paper conducts a life-cycle assessment (LCA) of residential mobility within three urban scenarios in Chicago: Chicago Loop as a high dense downtown district, Oak Park as a less dense suburb close to the downtown, and Aurora as a much less dense suburb far away from the downtown. In these three cases the research quantifies and compares the life-cycle energy in resident travel through different modes of transport such as automobile, bus, CTA train, and Metra, including such LCA components as vehicle manufacturing & maintenance, vehicle operation, infrastructure construction & operation, etc. The study demonstrates the denser area with shorter commuter distance consumes less life-cycle energy of residential mobility.
Based on the case studies in Chicago Metropolitan area, the paper provides an alternative perspective for policy and decisionmakers to incorporate life-cycle thinking into planning.
keywords: LCA, Sustainability, Transportation, Infrastructure, Embodied Energy
Presented at:
ARCC 2015 Conference – The FUTURE of Architectural Research (Chicago, IL)
Published & professionally reviewed by:
Architectural Research Centers Consortium (ARCC)
Perkins+Will
University of Massachusetts Amherst
Add comment
Log in
to post comments