Mid-Century Modern Building Performance and Improvement Strategies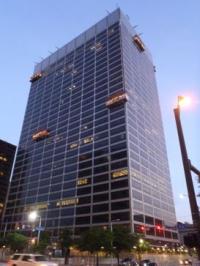 Please note: The attached file below contains a presentation in pdf format from the BEST5 conference. Open with Adobe Acrobat for best results.
Modernism as a philosophy that creates "better living through design" was a boldly declared manifesto of architect William Krisel and the universal ideal of mid-century Modern architecture. During this time period, the architect's primary objective was to streamline the built environment while respecting functionalism and human needs, all while incorporating new construction techniques and materials, to allow for a superior quality of life. However, while some mid-century Modern buildings are celebrated for their unique designs, over the years many have been branded as dated-looking energy hogs. In this paper, property-specific whole-building energy use data, made public for the first time by the Chicago Building Energy Use Benchmarking Ordinance, is evaluated to determine building energy use trends for mid-century Modern buildings in the Chicago Loop. Using a mid-century brutalist commercial building in Chicago as a case study, this paper further explores parametric energy analysis as a tool in evaluating the specific impact of various building improvement strategies for both the envelope and mechanical systems. Advanced building analytics such as hygrothermal analysis, heat-transfer analysis, and materials testing are included in the evaluation.
Presented at:
Building Enclosure Science and Technology (BEST5) Conference
Published & professionally reviewed by:
BEST5 Technical Committee