The Next Generation of Operating Rooms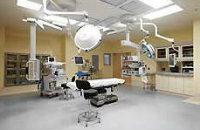 This article outlines specific design considerations and solutions for the next generation of ORs that provide the flexibility to accommodate current and emerging surgical techniques. Strategic location of doors, orientation of the OR table, and ancillary areas are suggested, along with a modular ceiling layout for support of ceiling-mounted utilities and booms.
The Academy Journal is published by the AIA Academy of Architecture for Health (AAH). The Journal is the official publication of the AAH and explores subjects of interest to AIA-AAH members and to others involved in the fields of healthcare architecture, planning, design and construction.
Periodical:
The Academy Journal of the Academy of Architecture for Health (AAH)
Published & professionally reviewed by:
The American Institute of Architects
Add comment
Log in
to post comments