One Fold (2014 R+D Award)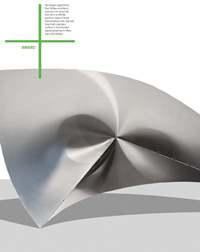 Exploring the notion of architecture without joints, Patkau Architects wanted to create a freestanding structure from a single sheet of stainless steel. By folding and bending pieces of increasingly large sizes, they were able to get remarkably robust structures that were also quite beautiful in their forms. By version six, Patkau could crinkle a 123-pound, 5-foot by 12-foot sheet of stainless steel into a self-supporting "broken vault" defined by complex curves. The secret to manipulating large sheets? Combining the steps of folding and bending into one mechanical motion.
Project: One Fold
Design Firm and Drawings: Patkau Architects (Vancouver, British Columbia)
(2014 R+D Awards recipient)
R+D Awards
ARCHITECT magazine's annual R+D Awards program honors the research and technologies that have advanced the profession at every scale—from design strategies and building products to fabrication methods, installations, software, and materials.
Published & professionally reviewed by:
More Like This
Add comment
Log in
to post comments