People-Space Analytics: Case Study of Work Dynamics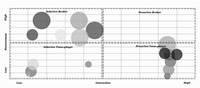 Workplace is a complex ecology comprised of various correlational relationships between people, spaces, objects and artifacts, practices, technology, and information. These correlational relationships are important because they are often directly tied to important workplace outcomes such as recruitment and retention, business performance and productivity, efficient allocation of resources and spaces, brand and culture, return on real estate investment, work-life balance, and strategizing for knowledge practices among others.
People-space analytics is a term used to describe an approach towards capturing and analyzing social dynamics in the physical space for providing data-driven accounts about how organizations use the physical space.
This study explores an interdisciplinary approach in which data collection, analysis, and interpretation are used as drivers of inspiration as well as tools of validation. A combination of tools and techniques labeled as people-space analytics was used to investigate the socio-spatial dynamics of work in the workplace of a national architecture firm. The results were later interpreted from a lens in the community of practice theory.
A secondary goal of this research project is to study how workplace's spatial configuration and key people and places are involved in organizational learning and knowledge practices. Therefore, a set of metrics and measures were used to interpret different employees' recurrent patterns of communication and flow of information between people from different social networks in a spatial context.
Presented at:
2017 AIA / ACSA Intersections Symposium
Published & professionally reviewed by:
The American Institute of Architects
Association of Collegiate Schools of Architecture (ACSA)