The Potential Application of Bio-Polymeric Materials in Building Facades: A Framework of multi-performance criteria matrix for selecting optimal materials by the AHP and TOPSIS methods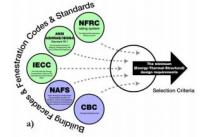 Please note: The attached file below contains a paper from the BEST5 conference that is linked to a conference presentation in pdf format. Open with Adobe Acrobat for best results.
Although bio-polymeric materials have successfully replaced many conventional materials in various applicable fields, their applications in the building façade realm have hitherto been limited. The emergence of countless new materials along with the availability of numerous manufacturing processes in the market has made the material selection procedure a difficult task to undertake by most of architects and engineers nowadays. This explains the need of adopting a novel scientific approach for the material selection process to help in selecting the most compatible material for the required façade application instead of following an outdated traditional selection path relying mainly on previous personal experiences.
This paper presents a rigorous mathematical approach (framework) that will aid architects, engineers, and other design professionals in screening all the potential bio-polymeric materials while evaluating the performance status of each one to rank them in view of their order of preference in achieving the desired multifaceted façade requirements. By increasing the complexity of the modern building façade assemblies and the diversity of their evaluation criteria, the paper discusses a new algorithm based on multi-criteria decision analysis methods to support decision makers with structured tools for sorting, ranking, and selecting the most appropriate candidate with the highest weighted scores for the intended façade application. This will open a new door for architects and engineers to explore new material families and examine their potentiality in achieving the diverse building façade requirements.
Presented at:
Building Enclosure Science and Technology (BEST5) Conference
Published & professionally reviewed by:
BEST5 Technical Committee
Add comment
Log in
to post comments