Preventing and Treating Distress in Brick Veneer Cavity Walls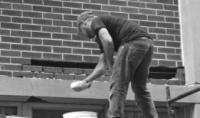 Why: As modern masonry construction has grown increasingly complex, so too have the design, detailing, and installation of brick cavity walls become more demanding. Where once a skilled mason was all it took to achieve a durable exterior wall, proper construction now demands the efforts of multiple tradespeople working in collaboration with the design professional to achieve a water-tight, structurally stable, aesthetically appealing masonry exterior.
What: Prevention of water infiltration, structural failure, and other woes by means of appropriate design and meticulous workmanship is the ideal, but for existing buildings, the mission becomes timely and accurate identification of emerging problems, with repair strategies that provide lasting solutions.
How: This article presents design basics flashing and waterproofing, lateral support, movement provisions, and mortar joints for cavity walls. It further discusses common problems and periodic inspection and maintenance.
Periodical:
Hoffmann Architects Journal
Published & professionally reviewed by: