Project profile: Albion District Library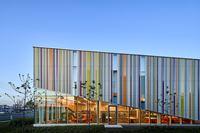 Located in Toronto's Rexdale neighborhood at the northwest edge of the city, Albion Library is one of Toronto's most well used public libraries. As well as providing standard lending services, Albion is a critical social resource for the neighborhood's diverse and high-needs community. When community consultations revealed the vital function the library plays in this neighborhood, plans to renovate/expand the existing branch were abandoned in favor of a new build on the adjacent parking lot permitting uninterrupted service.
The community's desire for a safe urban oasis inspired the concept of a walled garden defined at its perimeter by a polychrome screen of terracotta louvers. The richly textured façade lifts at the corners articulating the entry and key program areas. An undulating timber roof slopes to three courtyards that bring light, color, and nature into the heart of the square plan. Media suites and maker spaces engage patrons in creating content and self-expression while spaces such as the urban living room allow a forum for broader cultural expression.
Albion District Library; Toronto; Perkins+Will
Building program type(s): Public Assembly – Library
(2018 AIA COTE Top Ten award recipient)
Published & professionally reviewed by:
The American Institute of Architects
More Like This
Add comment
Log in
to post comments