Project profile: New United States Courthouse - Los Angeles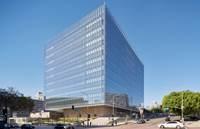 The New United States Courthouse in downtown Los Angeles is a 10-story, 633,000-square-foot building that contains 24 courtrooms and 32 judicial chambers. It houses the U.S. District Court of the Central District of California, accommodates the U.S. Marshals Service, and provides trial preparation space for the U.S. Attorney's Office and Federal Public Defender. Sustainability was a driving factor in the courthouse design from the beginning. It achieved LEED® Platinum certification, meets the GSA's 2020 energy objective, and incorporates sustainable design features including a rooftop photovoltaic array and pleated façade that reduces the building's annual radiation and central plant loads.
To achieve an iconic civic identity, the building uses traditional architectural elements such as processional steps, grand public spaces and enduring natural materials. The compact volume provides an efficient exterior wall to floor area ratio with the interior central light court acting as an organizational feature for optimizing circulation and wayfinding for the project's complex program. Both passive and active sustainable strategies informed the design from the inception. Features include site orientation, massing optimization, responsive façade design, onsite photovoltaic power generation, displacement air delivery systems, radiant hydronic systems, dimming controls, demand control ventilation systems, water harvesting, and extensive use of daylighting systems.
New United States Courthouse - Los Angeles; Los Angeles, California; Skidmore, Owings & Merrill LLP
Building program type(s): Courthouse
(2018 AIA COTE Top Ten award recipient)
Published & professionally reviewed by:
The American Institute of Architects
More Like This
Add comment
Log in
to post comments