Project profile: Ortlieb's Bottling House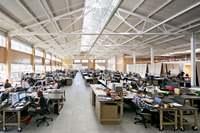 Faced with a growing firm and an increasing need for building and meeting space, Philadelphia-based architecture firm KieranTimberlake transformed a former beer bottling plant into a new studio and testing ground featuring a fabrication lab, model making shop, and breakout spaces. The firm took advantage of the mid-century building's naturally ventilating form to create an energy-efficient retrofit that uses passive strategies such as daylight, thermal mass, and operable windows to reduce the building's reliance on mechanical systems by 70 percent. By renovating the existing structure, the firm extended the building's life cycle and preserved the historic character of a rapidly changing neighborhood.
This project is a retrofit of a historic bottling plant in a dense residential and commercial neighborhood in Philadelphia. Built in 1948, the industrial building was transformed into an open plan office for 100+ people with conference rooms, fabrication shops, and breakout spaces. The goal for the renovation was to achieve a comfortable, energy-efficient, and flexible working environment and retain the building's original International Style characteristics. The renovation highlights and preserves the best attributes of a mid-century building, while incorporating novel approaches to office design to create a flexible, collaborative space that enhances creative pursuits.
Ortlieb's Bottling House; Philadelphia, Pennsylvania; KieranTimberlake
Building program type(s): Office – 10,001 to 100,000sf
(2018 AIA COTE Top Ten award recipient; AIA COTE Top Ten Plus honor for exceptional post-occupancy performance)
Published & professionally reviewed by:
The American Institute of Architects