Project profile: Rene Cazenave Apartments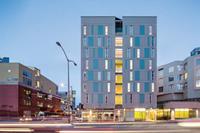 This supportive housing for formerly chronically homeless individuals replaces a former parking lot and freeway off-ramp with a high density, transit oriented, and healthy living alternative. Filtered ventilation, low emitting materials, ample daylight and views combine to aid the residents, many with mental and physical disabilities. Energy costs for the residents and non-profit owner are minimized by a combination of high efficiency lighting and hydronic heating, a continuously insulated rain-screen building envelope and a roof top solar canopy with both hot water and photovoltaic panels. Water is carefully managed by a vegetated roof, smart irrigation, a courtyard storm water tank, and reclaimed water piping.
The key issue for Rene Cazenave Apartments was seeking ways to combine environmental, financial, and social sustainability. As such, the design team focused on strategies that simultaneously addressed these goals. These strategies included reducing long term energy use and costs, creating healthy living environments, and maximizing seismic resilience. Rene Cazenave Apartments provide residents with affordable and accessible mini-studio apartments coupled with social, educational, and medical facilities that are designed to be healthy, transparent, nurturing, and life changing.
Building program type(s): Residential – Multi-Family 5 or more units
Rene Cazenave Apartments; San Francisco, California; Leddy Maytum Stacy Architects and Saida + Sullivan Design Partners, Associated Architect
(2016 AIA COTE Top Ten award recipient)
Published & professionally reviewed by:
The American Institute of Architects
More Like This
Add comment
Log in
to post comments