Redesigning the Office for Family Medicine: Promoting Efficient and Effective Work Processes through Design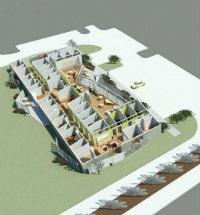 The premise of this paper is that the physical environment contributes to the quality, efficiency, and efficacy of healthcare delivery in outpatient settings.This paper presents a case study that demonstrates an effort to seamlessly integrate workflow, technology and the physical environment in an outpatient office prototype for family medicine. The interdisciplinary team started with the belief that the physical environment had to work in concert with clinical operations and that staff would have to fully adopt and embrace a cultural change. The real success of the collaborative effort will be determined after the new office is built and occupied in 2010. A post occupancy evaluation will reveal if, and to what degree, the design concepts applied to the new outpatient clinic contributes to the measurable outcomes identified during the programming phase of the project.
The Academy Journal is published by the AIA Academy of Architecture for Health (AAH). The Journal is the official publication of the AAH and explores subjects of interest to AIA-AAH members and to others involved in the fields of healthcare architecture, planning, design and construction.
Periodical:
The Academy Journal of the Academy of Architecture for Health (AAH)
Published & professionally reviewed by:
The American Institute of Architects