The Renovation of Louis Kahn's Richards Building: High Performance Historic Preservation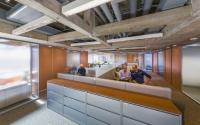 Please note: The attached file below contains a paper that is linked to a presentation in pdf format from the BEST5 conference. Open with Adobe Acrobat for best results.
The Alfred Newton Richards Medical Research Laboratory (Richards Building) at the University of Pennsylvania is one of the most important buildings in the career of architect Louis I. Kahn and one of the great buildings of the 20th century. Completed in 1961 the Richards Building was at the time deemed an architectural milestone worthy of a solo exhibition at the Museum of Modern Art, yet it has been equally maligned for fifty-years by its scientists/occupants. In 2008 it was granted status as a National Historic Landmark (NHL). As a NHL it must be treated with exceptional care, but as an occupied, working building designers must with equal vigor and discipline consider changes to its interior and exterior to properly serve its functional purpose and the needs of the present-day occupants and operations. A comprehensive renovation project started in 2010 was the catalyst for evaluating the exterior envelope and developing a design that retained the iconic visual and material characteristics of the building while simultaneously improving energy performance and the building's functional qualities.
This presentation reviews the development of Kahn's design, showing the comprehensive approach that was undertaken by an integrated design team to conserve the original stainless-steel window frames while optimizing the overall performance of the exterior envelope and building systems. The team sought to reconcile the University's aggressive sustainability mandates with the exacting visual and material demands of working with a National Historic Landmark. Our process developed an optimal solution through sympathetic, evolutionary upgrades that balanced the demands of preservation and high performance design. In particular, this presentation will examine the process undertaken to select an appropriate glass to replace the original polished plate units which combined with the creative rethinking of the building mechanical systems resulted in a design that balances preservation, energy efficiency, functionality, economy and constructability.
Presented at:
Building Enclosure Science and Technology (BEST5) Conference
Published & professionally reviewed by:
BEST5 Technical Committee