Rules of the Road: Connecting Cities to Underutilized Freeway Infrastructure Zones through Parametric Urbanism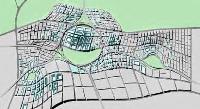 The urban highway is a major contributor to the design of cities. The urban highway was taken up as a design research topic and high-value problem because of its impact on large populations of people, its impact on multiple American cities, its rule-based logic of geometric form, the need to address an increasingly aging infrastructure, and new technologies.
Throughout the development of the highway system there have been heated debates about where and how best to plan and locate the necessary infrastructure. What might the discipline of architecture be able to offer to the discussion now? Can architecture be redeployed to mediate the scale difference between infrastructure and city? Are there architectural maneuvers or methodologies that can be deployed to rethink aging infrastructure?
Presented at:
2015 AIA / ACSA Intersections Symposium
Published & professionally reviewed by:
The American Institute of Architects
Association of Collegiate Schools of Architecture (ACSA)