Solar Reflectivity Studies Lotte World Tower – Case Study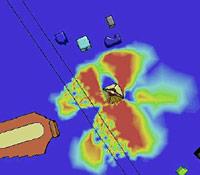 Recent skyscraper designs have extensive exterior glass paneling that may cause hazardous glare to neighboring buildings or nearby traffic. Most building codes do not explicitly limit solar reflectivity in the architectural design criteria. However, for large projects or iconic structures it is prudent to evaluate the potential risk of negative affects of solar reflectivity from a proposed design.
Examples of recent problem designs include the Disney Concert Hall in Los Angeles, CA where curved metal panels reflected intense solar radiation onto an adjacent building façade. Remediation required a significant change in reflectivity of the surface finish. The Vdara Hotel in Las Vegas, NV was reported in local newspapers to produce a "death ray" due to intense solar reflections from the concave curtain wall geometry. And works of art are sensitive to solar reflectivity as noted in Texas Architect magazine. James Turrell's Tending (Blue) at the Nasher Sculpture Garden has been closed and the bespoke skylight features tailored to filter indirect daylight to the art galleries are now subject to direct solar reflections from a new curved tower with a metallic coated glass facade.
Current tools to study the affects of solar reflectivity are limited to single ray tracing computations that do not account for accumulation nor for intensity of light. Not only are building codes silent on requirements or limits for reflectivity, but neither is any industry metric available for defining acceptable performance.
Presented at:
Building Enclosure Science & Technology (BEST3) Conference
Published & professionally reviewed by:
Curtain Wall Design and Consulting (CDC)
Building Enclosure Technology & Environment Council (National Institute of Building Sciences)