Taking Sides - Impact of Positioning PCMs at Different Sides of Enclosure Systems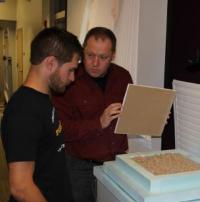 Please note: The attached file below contains a presentation in pdf format from the BEST5 conference. Open with Adobe Acrobat for best results.
Utilization of various phase change materials (PCMs) in building enclosures as thermal energy storage systems (TES) has become a re-surfacing topic over the past decade. New technologies, such as encapsulated PCMs present opportunities for innovative solutions that can contribute to the improvement of energy and thermal performance of buildings. However, not enough research has been conducted on sizing and positioning PCMs as a response to individual climate zones. This paper aims to present results of experimental investigations regarding the effectiveness of positioning PCMs at different locations within building enclosures, and their impact on possible energy savings and thermal comfort. It reports on experiments conducted in an environmental test chamber, which allows for comparative testing of thermal and hygrothermal performance under different exterior climate scenarios. The paper discusses the impacts of PCMs on HVAC and enclosure design in different climates and evaluates opportunities for utilizing PCMs to shift loads off peak hours. More specifically, it will demonstrate essential differences of PCM positions within building enclosures on thermal performance in different climate scenarios.
Presented at:
Building Enclosure Science and Technology (BEST5) Conference
Published & professionally reviewed by:
BEST5 Technical Committee
Add comment
Log in
to post comments