Vegas Altas Congress Center and Auditorium (2016 R+D Awards Citation)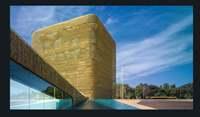 The architects behind the Vegas Altas Congress Center in Villanueva de la Serena, Spain, wanted the 74,000-square-foot project to blend seamlessly into the landscape. The design team partly buried the center's two large auditoriums before topping them with an expansive public plaza. Bursting from this flat surrounds is their counterpoint: a bold, cubic building cast in place with gold-colored concrete and punctuated with geometric window and skylight cutouts. To soften the contrast, the designers wrapped this cube, which houses a restaurant, offices, and service space, in a veil of horizontal bands that follow the cube's rounded corners, orbiting the structure in regimented paths inspired by the lines cut into farm fields after harvest. The veil also obscures the underlying concrete form from a distance, while providing shade to building occupants during the region's hot summers.
Project: Vegas Altas Congress Center and Auditorium
Design Firm: Pancorbo + de Villar + Chacón + Martín Robles, Madrid
(2016 R+D Awards recipient)
R+D Awards
ARCHITECT magazine's annual R+D Awards program honors the research and technologies that have advanced the profession at every scale—from design strategies and building products to fabrication methods, installations, software, and materials.
Published & professionally reviewed by:
More Like This
Add comment
Log in
to post comments