On the Water | Palisade Bay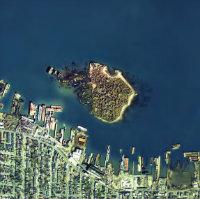 On the Water | Palisade Bay is the collaborative initiative of a group of engineers, architects, landscape architects, planners, and students to imagine a "soft infrastructure" for the New York–New Jersey Upper Bay by developing interconnected infrastructures and landscapes which rethink the thresholds of water, land, and city. The proposal is sited on the water, along the coastal edge, and within the local communities. It presents a new coastal planning strategy which not only mitigates potential damage from storms but also provides new ground for recreation, ecologies, agriculture, and urban development. With climate change and sea level rise acting as catalysts for this work, a quantitative analysis of dynamic systems serves as the foundation for this new soft infrastructure, which both enriches the ecology of the urban estuary and creates a vibrant culture on the water. The work began during the summer of 2007 upon award of the 2007 Latrobe Prize, a biannual research grant awarded by the American Institute of Architects College of Fellows. This book is a product of our two-year collaboration.
Three objectives summarize the strategies we have developed:
Construct an archipelago of islands and reefs along the shallow shoals of the New York–New Jersey Upper Bay to dampen powerful storm currents as well as encourage the development of new estuarine habitats.
Revitalize the waterfront by designing a broad, porous, "fingered" coastline which combines tidal marshes, parks, and piers for recreation and community development.
Enact zoning formulae that adapt efficiently in response to the impact of storms in order to increase community resilience to future natural disasters.
These three principles — on the water, along the coast, and in the communities — comprise a proposal for a coastal planning strategy which seeks not only to protect the New York–New Jersey region from sea level rise and storm surge flooding, but also to re-conceptualize the relationship between infrastructure and ecology in the twenty-first century waterfront city. With looming climate change as the catalyst for this work, we seek to incorporate conclusions drawn from complex numerical analysis of dynamic systems, as well as formal sensibilities, into a comprehensive plan which enriches ecology and the health of the urban estuary to create a vibrant culture on the water.
[2007 Latrobe Prize; AIA College of Fellows (COF)]
Published & professionally reviewed by:
The American Institute of Architects