Wisdom from the Field: Public Interest Architecture in Practice: A Guide to Public Interest Practices in Architecture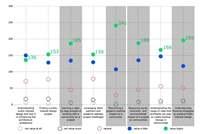 Public interest design is transforming architectural practices. Addressing public needs is the motivation of public interest design, or in other words the "why" of the work documented in this report. The "how" of the work, the practice models and methods used to address these needs is the focus of this research. The aim of the research is to increase the effectiveness and expand the impact of public interest work through a better understanding of public interest models and methods.
Five research questions were considered:
1. What is public interest design?
2. What are the needs that are addressed by public interest practices?
3. How are current public interest design practices operating?
4. What strategies have proven effective?
5. How can public interest design practices be sustained and expanded?
To answer these questions, the research team used three strategies, surveys, interviews and workshops, to collect the relevant information from three perspectives: those of public interest practitioners, their partners, and general architectural practitioners.
[2011 Latrobe Prize; AIA College of Fellows (COF)]
Published & professionally reviewed by:
The American Institute of Architects