Worcester Medical Center: A New Model for Integrated Healthcare Services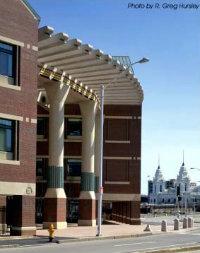 Worcester Medical Center, Worcester, Massachusetts, is a newly constructed, vertically integrated healthcare center, combining patient-focused care, physician/caregiver efficiency, integrated physician and hospital services, and first class amenities. The facility concept establishes a new model of preventative and prescriptive healthcare delivery, establishing a precedent for 21st century healthcare delivery.
The Academy Journal is published by the AIA Academy of Architecture for Health (AAH). The Journal is the official publication of the AAH and explores subjects of interest to AIA-AAH members and to others involved in the fields of healthcare architecture, planning, design and construction.
Periodical:
The Academy Journal of the Academy of Architecture for Health (AAH)
Published & professionally reviewed by:
The American Institute of Architects