2012 AIA/NCARB Internship and Career Survey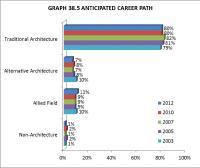 Since 2003, the American Institute of Architects (AIA) and the National Council of Architectural Registration Board (NCARB) have jointly commissioned a survey of interns in order to highlight trends, document recent history, and determine the present state of architectural internship, registration, and professional development.
The 2012 Internship and Career Survey, conducted by The Rickinson Group, contains a wealth of information on the experiences of emerging professionals as they go through IDP, take the ARE, become licensed, and obtain their first jobs. This survey has been completed five times since 2003, most recently in the fourth quarter of 2012.
This survey received 10,003 usable responses; 41 percent of respondents were women, 37 percent under age 30, and an additional 29 percent between ages 30–34.
Published & professionally reviewed by:
The American Institute of Architects
Add comment
Log in
to post comments