Air Barrier Assembly Testing to Replicate Real World Conditions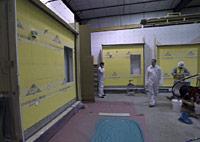 Air barrier assemblies in exterior walls can improve the energy efficiency of a building, and limit or prevent uncontrolled air leakage into and out of a building to reduce moisture damage and organic growth in exterior walls. Air barrier assemblies must perform in real world conditions to achieve their intended benefits. Simple air leakage tests of materials, such as ASTM E 2178, provide very little information about an air barrier assembly's ability to resist air passage in real life field conditions.
However, the ASTM E 2357 test standard described, together with typical test results for several types of air barrier assemblies shows what can be achieved when they are exposed to simulated real world conditions. Roof and foundation assembly tie-ins to the exterior wall air barrier, application of the air barrier onto a typical substrate, penetrations, a window opening and seams in the air barrier assembly are real world conditions included in the ASTM E 2357 Standard. The standard also exposes air barrier assembly to positive and negative air pressures to simulate wind, stack and fan pressures that occur in real buildings.
The work will indicate why, in the author's opinion, ASTM E 2357 is currently the best laboratory standard available to simulate real word air barrier assembly exposure conditions and can provide evidence that the air barrier assemblies will work as intended in the field. A case study of how the test is run will be provided with additional information about going beyond the ASTM E 2357 test requirements and bringing the air barrier assemblies to failure.
Presented at:
Building Enclosure Science & Technology (BEST2) Conference
Published & professionally reviewed by:
W.R. Grace
Building Enclosure Technology & Environment Council (National Institute of Building Sciences)
Add comment
Log in
to post comments