Applying Performative Tools in the Academic Design Studio: A Systemic Pedagogical Approach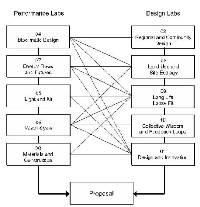 This paper describes a third- and fourth-year pilot design studio at the University of Texas at San Antonio (UTSA). Two instructors—one with expertise in building performance and the other in architectural design—implemented a systems-based approach to teaching undergraduate design studio that allowed students to explore the relationship between architectural performance and form.
The instructors integrated advanced performance modeling into the design curriculum, restructuring the studio around 10 parallel and interactive lab sequences: 5 covering topics specifically related to building performance and 5 covering general design topics. The reconfigured studio required participants to pursue issues of sustainability and design in parallel, allowing students to leverage building performance as a form generator, not a technical overlay. Both iterations of the studio produced a recipient in the AIA COTE Top Ten for Students Competition.
keywords: building performance, sustainability, COTE, studio pedagogy, Architecture 2030
Presented at:
ARCC 2017 Conference – Architecture of Complexity (Salt Lake City, UT)
Published & professionally reviewed by:
Architectural Research Centers Consortium (ARCC)
University of Utah