Assessing the Triple Bottom Line of Alternative Window to Wall Ratios as Resilient Adaptations in Office Buildings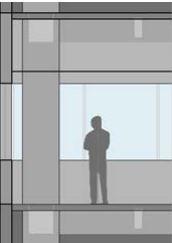 Please note: The attached file below contains a paper from the BEST5 conference that is linked to a conference presentation in pdf format. Open with Adobe Acrobat for best results.
The proportion of glazing in a building's envelope—the window to wall ratio (WWR)—influences many aspects of building performance over its life cycle, including material use, MEP design, and energy consumption. Reducing the WWR has also been studied as a resilient building strategy, with a goal of protecting the façade by increasing elasticity during relative displacements, protecting against windborne debris, and preventing air and water intrusion. Furthermore, WWR is a fundamental design decision affecting the comfort and satisfaction of building occupants, not to mention aesthetics.
Environmental, economic, and social effects of various WWRs were studied using prototypical building simulations. Building information models of the DOE's large office prototype were developed to perform Life Cycle Assessments (LCA) and investigate the implications of varying WWRs on environment impacts, life cycle cost, and occupant comfort. Preliminary results suggest that reducing the WWR decreases operational energy, reduces most LCA impact categories, while moderating thermal discomfort, and glare risk. However, tradeoffs between upfront and operating costs, and reduced daylight autonomy, must be considered.
Presented at:
Building Enclosure Science and Technology (BEST5) Conference
Published & professionally reviewed by:
BEST5 Technical Committee