Brock Environmental Center : A Whole Building Design Guide Case Study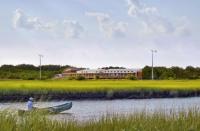 Please note: This entry contains a link to a detailed case study published by the Whole Building Design Guide. It is a 2016 Beyond Green Award recipient.
The Brock Environmental Center serves as the hub for the Chesapeake Bay Foundation's (CBF) Hampton Road office and supports their education, outreach, advocacy, and restoration initiatives. In addition to offices for CBF and partner groups, the Center provides meeting rooms and an 80–seat conference room designed to express CBF's mission of collaboration to protect one of the nation's most valuable and threatened natural resources — the Chesapeake Bay. Outdoor spaces, including a prominent outdoor classroom that hosts thousands of K–12 students each year, allow for a reduction in built area and connect occupants to the site.
Completion of the Center at the end of 2014 concluded a successful community effort to save Virginia Beach's 118–acre Pleasure House Point tract from development. As recently as 2008, developers intended to build more than 1,100 new high-rise condos and townhouses on the property. The economic downturn in 2009 led to bank foreclosure of the property. A community partnership with CBF, the City of Virginia Beach, and the Trust for Public Land purchased the land from the bank in 2012, preserving it for open space and environmental education. The new Center, the only major structure on the entire 118 acres, takes up only one-half acre of CBF's 10–acre parcel. Preserving the local ecology and water quality was paramount upon development of the site.
Published & professionally reviewed by:
Whole Building Design Guide technical committees